Handel: Messiah
Saturday 8 December 2018 7:30pm Truro Cathedral
G.F. Handel: Messiah
Soloists: Kirsty Hopkins (soprano), James Laing (alto), Ranald McCusker ( tenor), Timothy Dickinson ( bass)

Conductor: Christopher Gray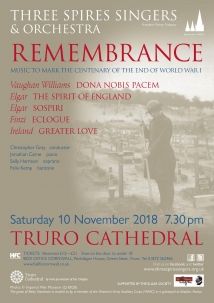 WWI Centenary Concert
Saturday 10 November 2018 7:30pm Truro Cathedral
Vaughan Williams: Dona Nobis Pacem, Elgar: The Spirit of England, Sospiri, Finzi: Eclogue, Ireland: Greater Love
Soloists: Jonathon Carne ( piano), Sally Harrison (soprano) Felix Kemp ( baritone)
Conductor: Christopher Gray
This concert is supported by The Elgar Society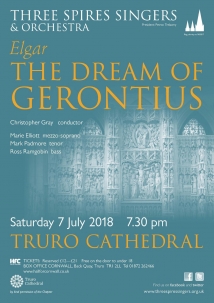 Elgar: The Dream of Gerontius
Saturday 7 July 2018 7:30pm Truro Cathedral
Elgar: The Dream of Gerontius
Conductor: Christopher Gray Soloists: Marie Elliott; mezzo-soprano; Mark Padmore, tenor; Ross Ramgobin, bass
---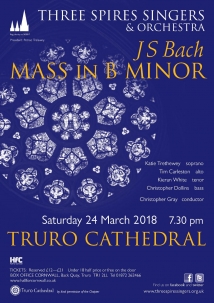 Bach: Mass in B Minor
Saturday 24 March 2018 7:30pm Truro Cathedral
J.S. Bach: Mass in B Minor
Conductor: Christopher Gray
Soloists: Katie Trethewey, Soprano; Tim Carleston, Alto; Kieran White, Tenor; Christopher Dollins, Bass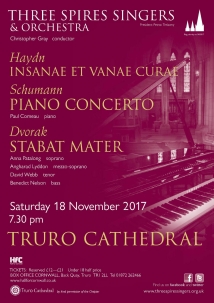 Haydn, Dvorak, Schumann
Saturday 18 November 2017 7:30pm Truro Cathedral
Haydn Insanae et Vanae Curae, Schumann Piano Concerto, Dvorak Stabat Mater
Conductor Christopher Gray

Soloists Paul Comeau, piano; Anna Patalong, soprano; Angharad Lyddon, mezzo-soprano; David Webb, tenor; Benedict Nelson, bass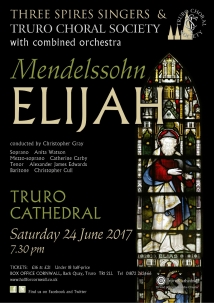 Mendelssohn's Elijah
Saturday 24 June 2017 7:30pm Truro Cathedral
Mendelssohn: Elijah
Conductor: Christopher Gray
Soloists: Anita Watson, soprano; Catherine Carby, mezzo-soprano; Alexander James Edwards, tenor; Christopher Cull, baritone
---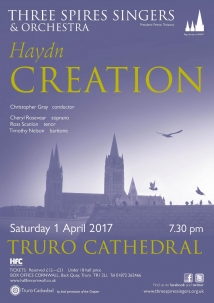 Haydn's Creation
Saturday 1 April 2017 7:30pm Truro Cathedral
Haydn Creation

Conductor: Christopher Gray
Soloists: Catherine Hamilton (Soprano), Ross Scanlon (Tenor), Timothy Nelson (Baritone)

Handel: Messiah
Saturday 10 December 2016 7:30pm Truro Cathedral
Conductor: Christopher Gray
Soloists: Lucy Hall, soprano, Laura Woods, mezzo soprano, Richard Pinkstone , tenor, Timothy Dickinson, bass-baritone
The Three Spires chorus were joined by singers from TRURO SCHOOL CHAMBER CHOIR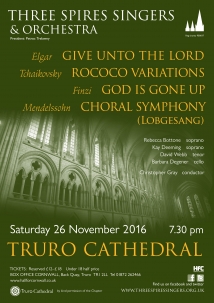 Concert
Saturday 26 November 2016 7:30pm Truro Cathedral
---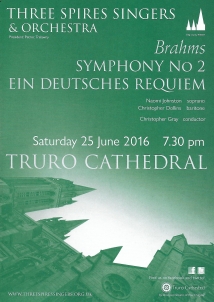 Brahms
Saturday 25 June 2016 7:30pm Truro Cathedral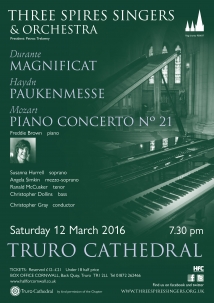 Durante - Mozart - Haydn
Saturday 12 March 2016 7:30pm Truro Cathedral
Durante: Magnificat, Mozart: Piano Concerto no. 21
Haydn: Paukenmesse (Missa in tempore belli)
Freddie Brown (piano), Susanna Hurrell (soprano), Angela Simkin (mezzo),
Ranald McCusker (tenor), Christopher Dollins (bass)
Conductor: Christopher Gray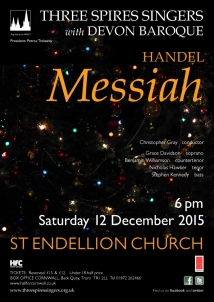 Handel: Messiah
Saturday 12 December 2015 6:00pm St Endellion Church
Soprano: Grace Davidson
Countertenor: Benjamin Williamson
Tenor: Nicholas Hawker
Bass: Stephen Kennedy
Conductor: Christopher Gray

---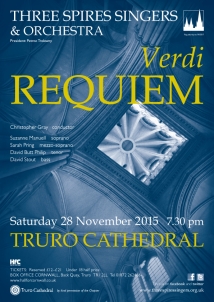 Verdi: Requiem
Saturday 28 November 2015 7:30pm Truro Cathedral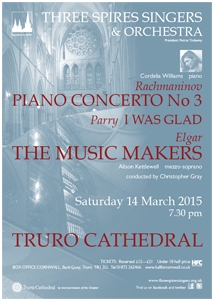 The Music Makers
Saturday 14 March 2015 7:30pm Truro Cathedral
Parry: I Was Glad Rachmaninov: Third Piano Concerto Elgar: The Music Makers
Piano: Cordelia Williams
Mezzo-soprano: Alison Kettlewell
Conductor: Christopher Gray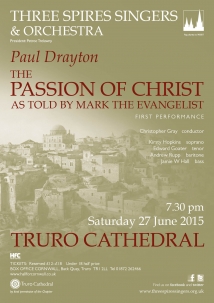 Drayton: St Mark Passion
Saturday 14 March 2015 7:30pm Truro Cathedral
Soprano: Kirsty Hopkins
Tenor: Edward Goater:
Baritone: Robert Rice:
Bass: Jamie W. Hall
Conductor: Christopher Gray
---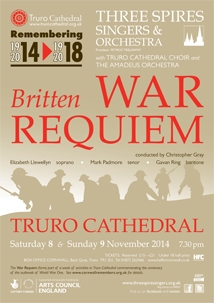 Britten's War Requiem: Pre-concert Talk
Saturday 8 November 2014 6:00pm Chapter House, Truro Cathedral
Preconcert talk with John Bridcut, documentary maker and Britten expert. John Bridcut discusses the text and music of the War Requiem with broadcaster and Three Spires President Petroc Trelawny.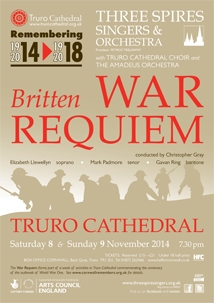 Britten: War Requiem
Saturday 8 November 2014 7:30pm Truro Cathedral
Soprano: Elizabeth Llewellyn
Tenor: Mark Padmore
Baritone: Gavan Ring
Conductor: Christopher Gray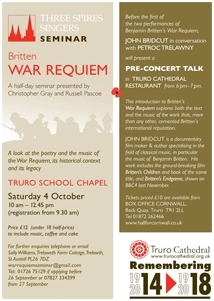 Britten War Requiem Seminar
Tuesday 4 November 2014 10:00am Truro School Chapel
A half day seminar presented by Christopher Gray and Russel Pascoe.
A look at the poetry and the music, its historical context and its legacy.
---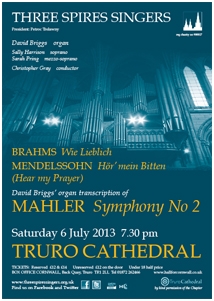 Mahler with David Briggs
Saturday 6 July 2013 7:30pm Truro Cathedral
Mendelssohn: Verleih uns Frieden Rheinburger: Abendlied Brahms: Wie lieblich Mahler: Symphony no.2
Soprano: Sally Harrison Mezzo-soprano: Sarah Pring Organ: David Briggs
Conductor: Christopher Gray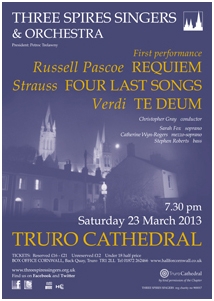 Verdi, Strauss and Pascoe
Saturday 23 March 2013 7:30pm Truro Cathedral
Verdi: Te Deum Strauss: Four Last Songs Russell Pascoe: Requiem
Soprano: Sarah Fox Mezzo-soprano: Catherine Wyn-Rogers Bass: Stephen Roberts
Conductor: Christopher Gray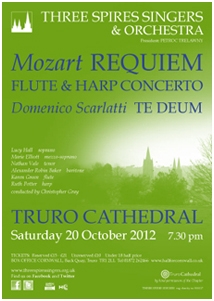 Mozart Requiem
Saturday 20 October 2012 7:30pm Truro Cathedral
Domenico: Scarlatti Te Deum Mozart: Concerto for Flute and Harp Mozart: Requiem
Soprano: Lucy Hall Mezzo-soprano: Marie Elliott Tenor: Nathan Vale Bass: Alexander Baker Flute: Karen Green Harp: Ruth Potter
Conductor: Christopher Gray

---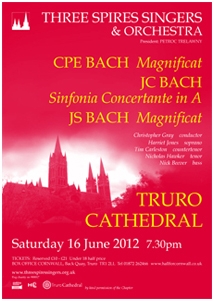 Music by the Bach Family
Saturday 16 June 2012 7:30pm Truro Cathedral
JS Bach: Magnificat JS Bach: Sinfonia Concertante in A for violin and cello CPE Bach: Magnificat
Soprano: Harriet Jones Counter-tenor: Tim Carleston Tenor: Nicholar Hawker Bass: Nick Beever
Conductor: Christopher Gray

Three Spires Singers with David Briggs
Saturday 24 March 2012 7:30pm Truro Cathedral
Faure: Cantique de Jean Racine Charpentier: Te Deum Poulenc: Organ Concerto David Briggs: Requiem
Organ: David Briggs Soprano: Cheryl Rosevear Tenor: Kieran White Bass: Nick Beever
Conductor: Christopher Gray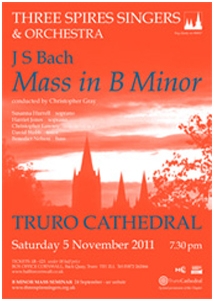 Mass in B Minor
Saturday 5 November 2011 7:30pm Truro Cathedral
Bach: Mass in B minor
Soprano: Susanna Hurrell Soprano: Harriet Jones Countertenor: Christopher Lowrey Tenor: David Webb Bass: Benedict Nelson
Conductor: Christopher Gray

---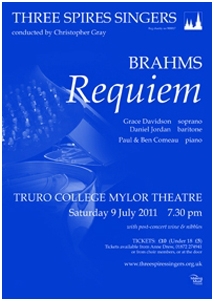 Brahms Requiem (Two Piano Version)
Saturday 9 July 2011 7:30pm Mylor Theatre, Truro College
Brahms: Requiem
Soprano: Grace Davidson Bass: Daniel Jordan Pianos: Paul and Benjamin Comeau
Conductor: Christopher Gray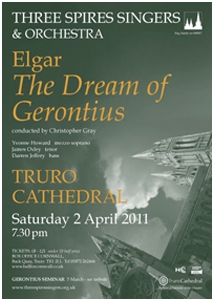 The Dream of Gerontius
Saturday 2 April 2011 7:30pm Truro Cathedral
Elgar: The Dream of Gerontius
Tenor: James Oxley Bass: Darren Jeffery Mezzo-soprano: Yvonne Howard
Conductor: Christopher Gray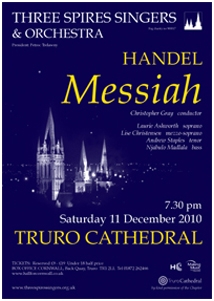 Handel: MESSIAH
Saturday 11 December 2010 7:30pm Truro Cathedral
Handel: Messiah
Soprano: Laurie Ashworth Mezzo-soprano: Lise Christensen Tenor: Daniel Norman Bass: Njabulo Madlala
Conductor: Christopher Gray

---