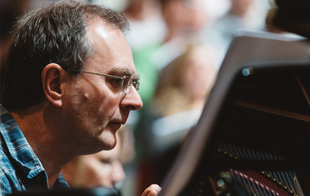 Paul Comeau has been musically active in Cornwall for over thirty years, as professional accompanist, teacher and concerto soloist, with repertoire ranging from Bach and Mozart through to Rachmaninov and Shostakovich. 
He has been involved for many years with the rehearsal and performance of choral music and is in demand as a continuo player.  He has had several compositions commissioned for performances in Truro Cathedral, some of which have been broadcast on Radio 3, both by St John's College Cambridge under Christopher Robinson and by Truro Cathedral Choir under Andrew Nethsingha and Robert Sharpe. His music has appeared on three discs, the most recent of which was A Year at York.
In addition to teaching piano at home, and accompanying for exams, diplomas, music festivals and concerts, he visits Truro School, Truro High School and Truro College, where he is a part time lecturer in performing arts. From time to time he assists with theory teaching, aural coaching and A level work. He is also an Associated Board theory examiner.
Aside from choral music, he is very interested in chamber music. He is a member of the Citron Trio and the Benallack Trio; he has also appeared with the Cornish Wind Quintet. Early last year he organized a Piano Marathon in Truro Cathedral, in which forty-five pianists took part in a complete performance of Bach's 48 Preludes and Fugues, with money raised going towards the purchase of a new grand piano for the Cathedral. Since the piano has been installed, Paul has organised a series of fundraising lunchtime concerts to take place on the third Tuesday of the month from May to September. Each concert places the piano in a different context; the series was successfully launched in May 2015 with music for piano and wind by Mozart and Poulenc.
More than just accompanist
Although his primary function is to accompany choir rehearsals, his role has gradually expanded into one of general musical assistant. He helps with auditions, takes sectional rehearsals where necessary and has deputised at full rehearsals. On the occasion of the choir's twenty-fifth anniversary concert in 2006, a performance of Brahms' German Requiem and Fourth Symphony, he stood in to conduct the concert at very short notice when the Music Director was unwell.
Paul is on the Three Spires committee in an advisory capacity, writes programme notes for nearly all of our concerts and plays chamber organ/harpsichord continuo with the Three Spires Orchestra. He has also performed concertos by Mozart, Beethoven and Shostakovich with the Three Spires Orchestra in Truro Cathedral. The second of his compositions performed by Three Spires Singers, In Principio, came at the end of a concert given in December 1999, featuring music composed in every century over the past millennium.
Paul met his wife, Camilla, nearly thirty years ago through the choir. Their two sons have both followed him into the music profession and both have appeared with the Three Spires Singers – Ben as a pianist and Toby as a solo treble.