Memories of Brahms
Saturday 25th June, 2016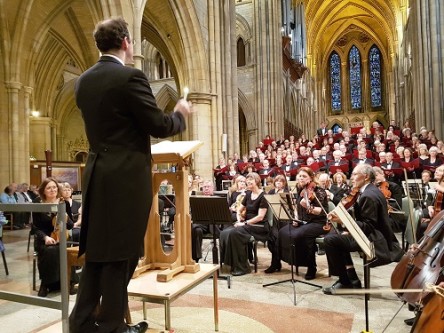 Photo courtesy of Philip Buttall
Music critic Philip Buttall praises Three Spires Singers' Brahms Requiem and 2nd Symphony (June 25th 2016 in Truro Cathedral).                                    
Writing on the Arts Culture website that covers the arts in South West England, he said:
"...This quite sublime performance of Ein Deutsches Requiem by Three Spires Singers and Orchestra very much brought a new sense of meaning to the work, and especially to those who felt they were already familiar with it.
...Conductor Christopher Gray's approach sought to address the complex nature of the work's duality - on the one hand sacred and classically-restrained, yet non-liturgical and full of romantic outpouring at the same time.
...To achieve such a wholly-convincing reading on the night, he adopted the simplest of means - by faithfully observing the composer's intentions and communicating these with such clarity and simple sincerity to the performers, and to which they wholeheartedly responded. Here were no unnecessary gestures or extrovert flamboyance per se, yet the performance still retained the stamp of individuality.
...The well-drilled choir was in superb voice, particularly the strong and accurate lead from sopranos, with soloists Naomi Johnston and Christopher Dollins providing matching support
...The outstanding orchestra, under the assured leadership of Pauline Lowbury, also made a telling, yet never overpowering contribution here."
 In a long review for the website Scene and Heard, which covers the international classical music scene, Philip Buttall expanded on his positive reactions to the concert, which included Brahms' 2nd Symphony:
"  Symphony No 2 in D major:
...Christopher Gray is clearly a graduate of the restrained-school of conducting, where gesture is quite minimal, but establishing a taut ensemble from the very outset, which was so refreshing to watch as he teased out lines and inner-parts. The playing was vibrant and stamped with the mark of an individual interpretation.
...When asked about his approach to the task of conducting two large works by Brahms, he said that he had been studying the musical scores for months in preparation – and this certainly showed on the night - the sound they produced and the way they played just seemed all rather special.
Ein Deutsches Requiem:
...Encouraged by the fine acoustic, the choir produced some lovely dynamic contrasts, from the wonderful calm of How lovely are thy dwellings to impressively powerful fortissimos elsewhere, with no apparent loss of ensemble or clarity of line in any of the fugal or contrapuntal sections.
...Three Spires Singers and Orchestra is fortunate in that they have an extremely active and supportive Patron in BBC Radio 3 presenter Petroc Trelawny, who, despite a busy broadcasting schedule in London, was still there in the front row on the night, applauding with unbridled enthusiasm and genuine appreciation, and patently so proud to be associated with such an outstanding group of performers. "
To see the full reviews, click on the links below:
Seen and Heard International - http://seenandheard-international.com/2016/06/three-spires-singers-and-orchestra-bring-new-sense-of-meaning-to-brahms-requiem/
Arts Culture -  http://artsculture.newsandmediarepublic.org/classical/three-spires-singers-truro-cathedral/